Marg Jewellery software has been an undisputed leader in managing jewellery business in the retail showroom and jewellery houses because of its reliable and user-friendly features. The Jewellery software provides the aptest solution for automation and can cater the needs of all the jewelry business management. Marg jewelry Software is capable of maintaining different inventories for precious metal or stone and has a provision in which jeweler can set different price rate for different customers, metals or stones.The software allows easy updation while billing and helps in saving of time. Marg Jewelry has all the necessary features required in jewelry business i.e. Bar-coding, Imaging, Return & Repair, Approval, Purchase & Planning's, Tray Stocks, Finance, Crate- wise Stock Management, Karigar Account, Girvi, Kitty Maintenance and many more for running this business smoothly.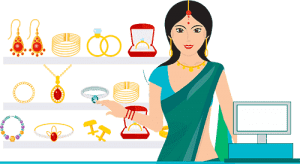 Know More About Marg® ERP
Manage Jewellery Stock according to weight/set/Design wise.
Manage Karigar account, repairing stock and order stock.
Making charge, wastage, costing Maintain purity wise.
modernized Showroom Management
Reduce Time to stock Tally
Easy & Fast billing with Accuracy
Effective Purchase management to reduce costing
Customers Satisfaction & Business Improvement
Integrated Accounting "PAPERLESS SHOP"
Adjustment of old Gold, Advance, metal and Replacement
Ornament images on sale bill and stock as well
We can maintain diamond/stone/making rate and wastage of our regular customer
Customer Data base maintain
Easy & Fast Billing with minimum Enter Required
Barcode/Item Code/Item Name wise Search
Cash, Credit, Panel wise Bill / Approval
Attract Customers i.e., Card/Point System
Various type of Discounts & Schemes
Flexibility in Stock for Govt. Employees Bills
Multiple Series & Wholesale Billing Option
Multiple Customers Billing at same time on single PC
Switch over from Sale to Purc. to Sale to anywhere
Family Group Option for Credit Sales
Credit Card Sales & Online Bank Status
Online Shortage for Unmaintained Stock
Customer Anniversary, Birthday, Image Records
Kitty and Girvi Records and Reports
Karigar, Approval, Sale Order, Repair, Sales and Purchase Reports
Day wise Gold and Silver rate record
Last purchase deals of item at the time of Ordering/Billing
Order through E-Mail/Fax/CD/Print Media
Maintain BHAV(metal to metal, metal to rupees) and adjust advance amount
Auto purchase load from Order/Email/CD
Purchase as per Supplier Invoice
Display Last 4 Deals of Selected item to cross check Rate, Deal, Disc., Tax & Cost
Cash/Credit Purchase
Supplier wise various outstanding reports & reminders
Pending Dr/Cr & Replacement Notes
Stock adjustment add for without purchase
Easy option for Management to Cross Check Bills
Sales option at the time of Purchase
Item not received in purchase can be shift to Pending Order
Accounting more easy than Tally
Financial Accounting up to Balance Sheet
Online Accounting with Zooming Facility
Trial Balance, Balance Sheet and P&L on Tips
Cash and Fund Flow & Ratio Analysis
Bank Reconciliation & Interest Calculation
Bill Wise Suppliers Outstanding & Bank Summary
GST Returns, Sales Tax Registers & Summaries
Columnar Register/Ledger Printing
Multi Ledger/Voucher/Dr/Cr Note printing
Merge Trial Balance, Balance Sheet and P&L for Pharmacy Chain Stores
Cheque & Voucher Printing
IT-ST Auditor Reports
Gross Profit reports on Day/Month/Item/Company/Bill & Supplier wise with zooming up to Bill
ABC Analysis, Fast & Slow Moving Items
Purchase, Sales & Stock Analysis
Suppliers wise Stocks & Valuation
Bill not Printed/No. of Prints/Modification Track
Operator wise Log Book, Cash Collection & Sales Reports
Supplier Wise Companies List & Best Supplier Planning
Adjust Margins of Bills for personal sales
Pending Challans & Single Bill for Counter Sales
Product/Suppliers & Customer Queries
What Marg Pharmacy Software Can Do For Your Business?
0
+
Sales & Service Professionals
NEED HELP? CALL OUR SUPPORT TEAM +93 77 42 91 300